Mesa protest, prayer gathering focus on police  – East Valley Tribune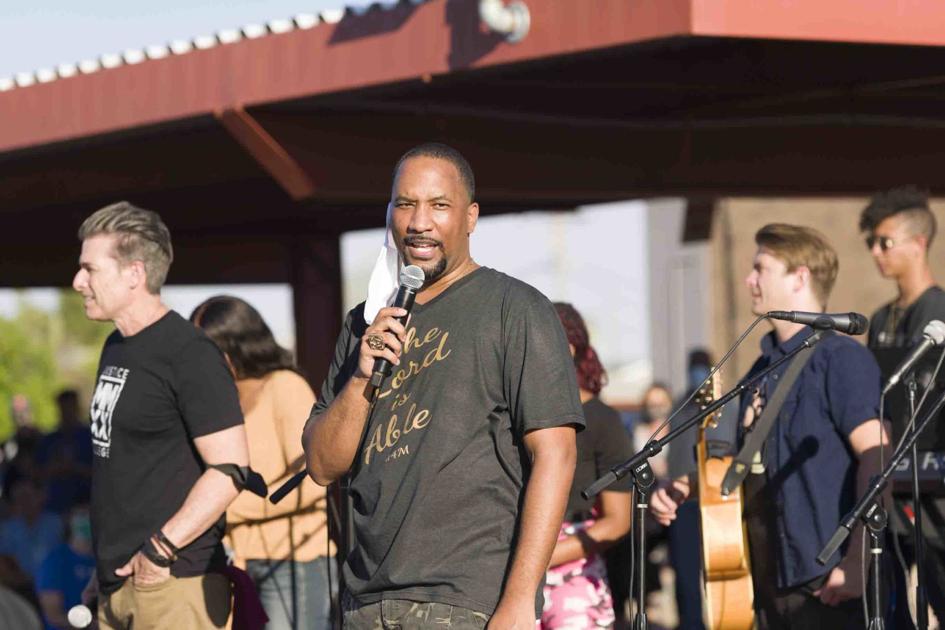 The tone of two events in Mesa aimed at addressing systemic racism was remarkably different, with one a prayerful rally for change and the other the first protest over the slaying of George Floyd in Minneapolis.
But in the end, the goal of the protest last Tuesday and the prayer gathering on Wednesday was the same: to work towards more equality in the way people of color are treated by police.
The prayer vigil sponsored by Rev. Andre Miller at New Beginnings Christian Church in Mesa was focused on unity, while the march sponsored by Rev. Reginald Trotter of Phoenix was aimed at reigning in excessive force and racial profiling.
 "God has brought us here for such a time as this. Change is here. Change is knocking at the door,'' said Rev. Tyronne Stowe, a former National Football League linebacker with the Arizona Cardinals, the Pittsburgh Steelers, the Seattle Seahawks and the Washington Redskins.
"If we don't get it right here, don't expect to make the trip,'' he said, alluding to heaven. "There ain't going to be no segregated heaven.''
Miller, who said he has served on a Mesa police use of force advisory committee, said his goal in sponsoring the prayer event was to bring people together.
It drew Mesa Mayor John Giles, Councilwoman Jen Duff, Tempe Mayor-elect Corey Woods and Tempe Police Chief
Sylvia Mohr.
Giles and Duff knelt on the asphalt in the church parking lot in prayer, joined by at least 200 others, including some Scottsdale Police officers.
"The message is, 'it takes all of us to fix all of this,''' Miller said. "We have to get together to do the hard work to make America better.''
John Goodie of Gilbert, a retired Mesa park ranger and a longtime Mesa civil rights advocate who helped establish Mesa's Martin Luther King Day celebration, said he has been victimized by structural racism his whole life as a large black man.
Recently, Goodie said, he was standing behind an elderly white couple at an ATM in Gilbert. The woman noticed him and quickly became so nervous that they bolted toward their car, leaving their debit card behind.
Goodie said he followed them to the car. At first, the woman refused to roll down her window, but when she noticed Goodie holding her ATM card, she gladly accepted it and apologized for her reaction.
"Together, we are all better,'' Goodie said. "That's what I have been about my whole life, to celebrate our differences and our likenesses.''
Pastor Palmer Chinchen, of The Grove Christian Church in Chandler, spoke at the event and encouraged church members to attend.
"We wanted to come as an act of solidarity with our African American brothers and sisters. We want to make changes to end racism,'' he said.
Alluding to Floyd's death, Mohr said, "the shield can be tarnished by the acts like we saw,'' but tragedy can spawn "true transformative, systemic change.''
She added, "There is no one who despises bad cops more than good cops.''
By all accounts, the protest march a day earlier through downtown Mesa was peaceful, starting at Mesa City Hall and heading down Main Street before ending at Mesa Police headquarters.
Trotter said the focus was on improving Mesa police interaction with blacks, who he said have suffered excessive force and racial profiling.
"Nothing was happening in Mesa,'' despite a series of protests in Phoenix and Scottsdale, Trotter said. "What really motivated me is that Mesa has a lot of problems, a lot of issues.''
"Mesa has a history, a tendency, to be very aggressive,'' he said, with relatively small violations turned into major problems because of racial profiling.
"I would say they need more training on de-escalation rather than using excessive force,'' he said. "The racial profiling has to stop.''
He said he has invited Chief Ken Cost to address the protesters at a follow-up protest, after Cost declined to do so at the first protest, citing scheduling conflicts.
Trotter said Mesa also needs a civilian police review board similar to the one recently established in Phoenix. Phoenix City Council last week voted to provide more than $3 million to fund the panel's operation.
Trotter's son, also Reginald Trotter, alleges he was the victim of excessive force by Mesa Police in November 2018 when he fought with police while they were arresting him for cutting through a park after hours and cocaine possession. A notice of claim is pending against the city.
Rev. Trotter said there were similarities in police tactics used against his son and against Floyd by Minneapolis police, but Assistant Ed Wessing said he cannot comment because of pending litigation.
"As you know, Mr. Trotter has filed a notice of claim with the City of Mesa related to this incident.  It would be inappropriate for the Mesa Police Department to provide any further statements related to this incident due to pending litigation,'' Wessing wrote in a response to an inquiry by a TV station. 
"The Mesa Police Department continues to be progressive and is committed to process improvement,'' he added.